Protecting Your Family from Lyme Disease
Author: Lauren Fox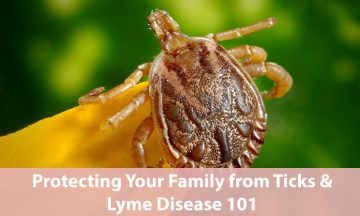 Summer is rounding out, and no doubt you've heard about the dangers of Lyme disease. Many people shrug it off, thinking it's a threat they don't have to worry about, but the risk to you and your family is much greater than you realize. Ticks are everywhere (year round in many places), and they want our blood. They have been reported in half of all U.S. counties and in countries worldwide. While there are more than 329,000 new cases of Lyme disease every year in the U.S., ticks can also cause about 20 other illnesses including Babesia, a parasite related to malaria, Ehrlichia and Powassan virus, some of which can be fatal. We talked with Mayla Hsu, Ph.D., director of research and science at Global Lyme Alliance and a mom of two, about what you and your family need to know to stay safe this summer.
WHAT'S THE BEST WAY TO AVOID LYME DISEASE?
Lyme disease is spread by an infected black-legged (deer tick) that in its nymph stage, is about the size of a poppy seed. The best way to prevent Lyme and other tick-borne diseases is to avoid areas where ticks live. Ticks tend to be near ground— at the ends of strands of grass, edges of lawn, lower part of tree trunks, and in leaf litter. When you walk or hike, try to stay on cleared paths instead of walking across grassy fields or in underbrush. Although ticks can't jump or fly, they can sometimes be on branches or leaves hanging overhead, carried by squirrels or birds to upper parts of trees. Typically, they wait for animals and humans to brush past, and then crawl onto them. Ticks also need humidity and damp spaces, so keep your children's swing sets and sandboxes in a sunny or dry area of your yard.
ARE THERE OTHER WAYS TO PROTECT MYSELF AND MY FAMILY?
Dress defensively when hiking in the woods, camping, doing yard work or gardening.  Cover up by wearing light colored long sleeves and long pants so you can spot ticks more easily. Tuck the pant cuffs into high socks when in Lyme-endemic areas. Wear a hat and tuck your hair in, if possible. Also, don't walk barefoot or in open sandals except on pavement. Even short grass can harbor ticks.
WHAT SHOULD I KNOW ABOUT TICK REPELLENTS?
Wearing long sleeves and pants can be uncomfortable in hot summer months, and I don't even bother arguing with my kids about this anymore! So it's important to apply repellents containing DEET or picaridin, to exposed skin. If I'm going briefly into my yard to call the dog, for instance, and don't feel like spraying just for that, I wear tall rubber boots. It may look strange, but it has worked for me. It's also a good idea to wear tick-repellent clothing that's treated with permethrin, an acaricide that repels and kills ticks. You can buy clothes pre-treated with permethrin at outdoor recreation stores or you may spray your own clothing with it. Don't forget to spray your shoes with permethrin to prevent ticks from crawling up your shoes.
WHAT SHOULD YOU DO WHEN YOU RETURN FROM THE OUTDOORS?
When you come in from the outdoors, remove your clothes and shoes. Toss your clothes in a hot dryer for 15 minutes. Ticks hate dry heat and washing in hot water will not kill them—only dry heat will. If you can't do that right away, at least put all outdoor clothes into a basket or hamper to keep them from spreading out in the house. After being in a tick-infested area, shower as soon as possible once you are indoors. In my family, we shower and do tick checks every night. Scan your entire body for ticks especially in body crevices—in between toes, in the belly button, the groin area, behind the knees and ears, at the hairline, and on the scalp. And although medicated collars kill ticks on dogs and cats, pets can still bring ticks into your home. So, tick checks on pets should be done regularly too, especially around their faces and ears.
IF YOU SEE A TICK ON YOUR CHILD, WHAT SHOULD YOU DO?
If you see one, remove it immediately using fine-tipped tweezers. If it's embedded, you may have to pull quite forcefully, as tick saliva contains cement to promote better attachment and feeding. Take care to remove all biting mouthparts, because if left behind, they may continue to spread bacteria and other microbes into the skin. Clean the bite site and put a dab of antibiotic cream on it.
CAN PARENTS TEST A TICK FOR LYME? 
If you want to test the tick for disease-causing microbes, save it (or pieces of it) in a sealable plastic sandwich bag. If pathogens are present, tick-testing labs can identify them with DNA tests. Many towns and universities in Lyme-endemic communities offer tick testing. For example, when I picked a tick off my husband recently, I sent it to University of Massachusetts-Amherst's tick testing lab, paying $50 to find that it was infected with Borrelia burgdorferi, the bacteria that causes Lyme disease. However, it was negative for all other microbes, which was a relief. With this information, we discussed the need for antibiotics with his primary care physician.
ARE THERE SYMPTOMS OR WARNING SIGNS OF LYME DISEASE? 
Lyme disease has many symptoms. It can—but doesn't always—cause an expanding, circular red "bull's eye" rash. Or you may experience flu-like symptoms with fever, chills, headache, stiff neck, achiness, fatigue, and joint pain. Lyme can also cause a type of facial nerve paralysis known as Bell's Palsy, which will cause one side of your face to droop.
HOW IS LYME DISEASE DIAGNOSED?
When Lyme disease is suspected, a blood test to detect antibodies recognizing the bacteria is done. There are two parts of this blood test and both must be positive for the person to be considered infected. Unfortunately, the test is highly inaccurate, because early in infection, patients may not have made antibodies yet. Another reason is that there are many strains of Lyme bacteria, and the current test only detects one of them. So, the diagnosis is often made by experienced doctors based on clinical descriptions, history of tick bite or having been in a Lyme-endemic area. New diagnostic tests are being developed, and hopefully a more accurate one will soon be available.
CAN YOU PROTECT YOUR HOME FROM TICKS?
Yes. Make sure you mow your grass regularly and let it dry thoroughly between waterings. Also clear brush, remove leaf litter and woodpiles, and move shrubbery away from your house. It's also a good idea to place a barrier of wood chips or gravel between your lawn and wooded areas to prevent ticks from migrating into your recreational area.
CAN LYME BE CURED?
When Lyme disease is diagnosed and treated early, antibiotics ARE effective in about 80% of patients. This means that up to 20% may continue to have longer-term, often complicated symptoms. Diagnosis and treatment may be delayed, since symptoms are often varied, and many people do not remember even being bitten. In such cases, treatment may have a much higher failure rate, and patients often develop symptoms that are more severe and difficult to treat. Global Lyme Alliance has been actively engaged in fundraising to help support research in patients like this. We urgently need more accurate diagnostic tests and new treatment options to help those who continue to suffer even after antibiotic treatment. Awareness among the public and medical professionals must also be increased. With tick-borne disease incidence growing, there will be more and more people who will get sick every year.
For more information about this and the research supported by Global Lyme Alliance, visit: www.globallymealliance.org