Is Your Child Using the Internet Safely?
Author: Shannon Miller Lifestyle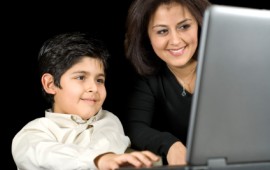 As parents, most of you are very aware of all the social media websites out there and some of you may even have kids that participate in many of the sites like Facebook and Twitter.
Social media is a great way for your kids to stay connected with their friends, but there are some safety precautions that you should teach your kids about the Internet.
With more than 80 percent of high school students and over 23 percent of preschoolers using the Web, teaching kids about Internet safety is an essential part of parenting.  "Children can reap many benefits from exploring the Internet, but may also encounter various risks," says Wendy L. Sheppard, MSW, a Philadelphia-based life coach specializing in parenting issues.
10 Internet Safety Tips for Children:
Park the computer in the family room – Instead of letting your child have a computer in her own room, keep a family computer in an open, family area.
Know your child's password – "Consider requiring that your child shares his or her password with you when setting up e-mail accounts, Facebook, [and so on]," says Sheppard.  Make sure that your child uses the privacy settings.
Set parental controls on the computer – Various types of software are available to prevent kids from visiting inappropriate websites on the Internet.  "Control your settings through your Internet provider if they offer those services," suggests Sheppard.
Teach children about internet dangers in an age-appropriate way – Explain to young children that there are strangers on the Internet and, just like when they're in a public place, they should be wary of people who approach them.  Older children should be made aware of the real dangers of Internet predators.
Establish rules about revealing personal information – "They shouldn't talk about where they live, where they go to school, or even give away information like their birth date, the time zone they live in, or their school's colors or mascot," says Sheppard.
Make sure children do not post photos-They should never post pictures of themselves on social networking sites, e-mail them to online friends, or share them through instant messaging.  "What goes online may stay online forever," notes Sheppard.
Monitor your child's activity on the internet – The "history" tab allows you to see where your child has been surfing and what they has been doing.
Teach your kids how to surf safely – Make sure they know what sites to stay away from so that they don't see inappropriate content.  You might also want to block online chat rooms so that your child can't "meet" potentially dangerous strangers.
Warn about the dangers of in-person meetings with online friends – You never know who could be impersonating a "friend" online, so Sheppard suggests making sure that your child understands these dangers and never agrees to meet any online buddy in person without discussing it with and getting the permission of a parent.
Set up your own account on social networking sites – Sheppard recommends that "Parents need to learn about the mediums their children are using online," she says.  "Use them so you know the potential issues your kids could face."
Source:  everydayhealth.com