The 3 "C's" of Halloween: Costumes, Candy, and Cautious!
Author: Shannon Miller Lifestyle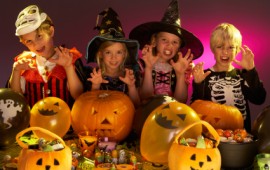 Of course the first 2 are more fun, but we can't forget about the last one! 
Dressing up and getting a whole pillow case full of candy make Halloween the special holiday that it is, but with these special aspects come a great need for safety.
That being said, the Center for Disease Control and Prevention website provides a creative list of safety tips to  follow while enjoying this spooky and fun holiday.  Check them out!
Swords and knives used as costume accessories should be short, soft, and flexible.
Avoid trick or treating alone.  Find a group of friends for your kid(s) to go with or take them yourself.
Fasten reflective tape to your child's costume and trick or treat bag to make them easily noticeable to drivers.
Examine all treats cautiously.  Check for choking hazards and to see if any of them have been tampered with.
Hold a flashlight while you are trick-or-treating so you can easily find your way from house to house and so that other trick-or-treaters can easily see you. (If you will not be with your kids, give them a flashlight to bring with them)
Always test costume make-up in a small area before applying it all over.  Take it off before bedtime so as to prevent skin irritation.
Look both ways before crossing the street.
Lower your risk for serious eye injury by not wearing decorative contact lenses.
Only walk on sidewalks or the far edge of the street.
Wear masks and costumes that fit well so as to avoid tripping and blocked vision.
Eat factory-wrapped candy.  Avoid eating homemade treats unless the makers are close friends.
Enter homes only if you are trick-or-treating with a trusted adult.  Otherwise, avoid this situation.
Never walk near lit candles or luminaries.  If possible, wear a flame resistant costume.
Pick out a great costume, get lots of yummy candy, and be cautious!  Happy Halloween!
Source: "Halloween Health and Safety Tips",  Centers for Disease Control and Prevention.