Baby Shower Ideas from "Daddy Nickell"
Author: Shannon Miller Lifestyle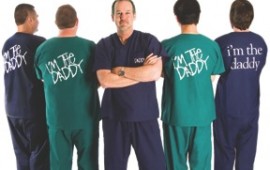 Planning a baby shower?
What about Dad?
So often while expecting a new baby, everything is centered around Mom. While that is great, sometimes that leaves Dad feeling a little left out. We went to Daddy Nickell, parenting expert, columnist, media personality, and father of 7, for some baby shower ideas and advice on the best ways to celebrate both Dad and Mom. In addition to offering parenting advice, Daddy Nickell, has hosted several baby showers and daddy showers for celebrity moms and dads to be, including Antonio Sabato Jr., Sarah Drew, Christie Lynn Smith, Dean McDermott, JR Martinez, Tina Campbell, Kelly Stables and more.
Shannon Miller Lifestyle :What are the first things to consider when planning a baby shower?
Daddy Nickell: Before you start planning a baby shower you should consider the following:
Who will attend the function i.e. couples, ladies only, men only, etc.
Who will help plan and host the shower – a close friend or a family member.
A convenient time to throw the shower – not too close to the due date – those babies don't always come when expected.
What size budget do you have?
Will you serve food? If so, will the event be catered, or will it be a potluck?
Possible locations to host the event.
Will the event have a theme? Dadchelor Party, wine tasting, Vegas get away, parents house.
SML: What are some different kinds of parties to throw for the expecting parents?
DN: There are many different options for parties, and it really just depends on your taste and lifestyle.
One expectant couple might like a coed, backyard BBQ shower
Other expectant moms might prefer a quiet, family-only shower at home
Others might enjoy the event at their favorite spa.
For dad – more and more couples are opting for a Dadchelor Party for the new daddy to be.
Multiple parties are a common trend.  Possible variations include: one for mommy and close friends, one for mommy and family members, and one for couples.  Be sure to include one for daddy with his guy friends.
SML: Who should be the host of the baby shower?
DN: Choose a close friend of family member or two who are organized and who have extra free time on his or her hands. Utilizing a small team prevents putting too much pressure on one person.  Showers can be expensive. I would recommend the including mommy or daddy in the decision making and budgeting process.  Most showers are not surprise events, so input from family and friends can be helpful when it comes to costs and who will be responsible.
SML: When is the typical time in the pregnancy to throw a baby shower?
DN: A baby shower is best held during the end of the second trimester or the beginning of the third. Of course, you can have the shower whenever is convenient for you and your guests. Be aware of conflicting events like the Super Bowl, holiday celebrations or school vacation times, etc. Be careful not to plan it too close to the expectant mom's due date. Like I said before, those babies don't always stay put as long as they're supposed to.
SML: How should a theme be chosen?
DN: Let the expectant parent's personality be your guide. If the dad is into sports consider throwing a Dadchelor Party at a local sports bar. Recently, people have begun to be much more creative. If the mom loves the beach, and you live close to one, throw a baby shower beach bash and picnic for the mommy-to-be.
You can really go as big or as small as you want. But, remember when choosing the theme it's important to stay true to the expecting parent's personalities.
SML: What are some classic themes that you just can't go wrong with?
DN: For the traditional baby shower, I suggest themes including: A Spa Shower, A Beach Bash, A Pool Party, Picnic in the Park, or a Tea Party theme. For the Dadchelor Party, I would suggest: A Poker Party, A Sports Bar Party, A Tailgate Party, A Fishing Party, A Campout, A Golfing Party, or perhaps A Beer Tasting Party. Whatever you do, keep in mind the purpose of the gathering – to celebrate the arrival of a baby – and you can't go wrong.
SML: What are some of the most creative,innovative, or memorable themes you have done?
DN: Dean McDermott's "All American Daddy" themed Dadchelor Party was one of the most memorable events.  He hosted the event at a skeet shooting range in California. We had a group of about 15 men who came together to bond and support Dean McDermott who was expecting his fifth child.  Some of the dads even brought their sons. After some lessons we had a shoot off contest – what's a men's event without a little friendly competition? After the shooting match we enjoyed beer and a tri tip sandwich while we took turns giving toasts of congratulations, humor, and advice. A few guys brought gifts, but mostly we just a fun time celebrating the new addition to Dean's family.
SML: What are the top 4 things to avoid when hosting a baby shower?
DN:
Making the invitation list without consulting mommy. She should have the final say on who is invited.  You won't want to forget any out of town friends or family.
Alcohol – To serve or not to serve.  This is a personal preference that should be respected.
Creating the invitation and not allowing the mommy-to-be to proof prior to sending.
Hosting a late night event.  Mommy gets tired and needs time to rest and relax in the evening.
SML: What are the top 4 things avoid when attending a baby shower?
DN:
Don't mention weight gain.  Be respectful of the mommy-to-be; she is still getting used to the baby weight.
Don't react in a negative way to name choices.  If the mommy says the baby name – keep your comments positive.
Don't consuming a lot of alcohol.  Don't bring alcohol or champagne unless you have asked permission.
Do not bring your kids or babies unless the invitation indicates "kids welcome".
SML: What are some favorite favors to give away to guests?
DN: From my experience you can't go wrong with edible favors. I suggest something simple like cookies or cupcakes.
SML: What are some great ways to include dad?
DN: More and more, dads are being included in showers via coed or couple's showers. Baby showers aren't just for women! Make sure you invite both mom's and dad's friends if you're planning a couple's shower.
Additionally, I've mentioned the Dadchelor Party which is an increasingly popular idea. A Dadchelor Party is kind of the expectant dad's last hurrah with the guys before baby comes. Ask each guy guest to bring a box of diapers and let the men have a cookout in the backyard to celebrate daddy hood and the new daddy-to-be.
SML: What are some great money saving tips baby shower ideas for the host?
DN: Decorations and location. If you're looking to save money, find a free location to host the shower, and don't splurge on decorations – keep it simple. Additionally, you don't need to feed everyone. Host a potluck and ask each guest to bring something small or just grab a few snacks. Schedule the shower at 1:30, so guests will have eaten lunch prior to attending.
SML: What are some great foods for the party that you can't go wrong with?
DN: Women tend to enjoy healthier choices like fruit kabobs and veggie platters while men at a Dadchelor Party prefer nachos and chicken wings. Have fun with the food!!
SML: What are some great types of venues for a baby shower?
DN: I'd look into local parks, restaurants or spas. You don't necessarily have to host a baby shower in someone's home; however, backyard BBQ showers can be a ton of fun!
SML: What are some great games to include, if any?
DN: Games are great – whether you're hosting a traditional shower or a Dadchelor Party.
I suggest the bottle chug where you fill baby bottles with sparkling cider and the guests "chug" them as fast as they can (at a Dadchelor Party substitute the sparkling cider for beer – it's a crowd pleaser).
Guests also enjoy stroller Olympics.
"Blind diapering" is always fun for participants and spectators alike.
Measure the belly – guess how many sheets of toilet paper it will take to wrap about momma's belly at the biggest point.
Name the baby
Connect baby pictures – Ask each guest to provide a baby picture then match each person's baby photo with how they look today.
Guess the size and weight of baby at birth
SML: What kind of planning goes into a celebrity baby shower event? Is it more elaborate?
DN: The celebrity baby shower events we've hosted and sponsored have varied greatly.  It all depends on the celebrity's vision for the event.  Sometimes the parties are elaborate, other times they are intimate family-only events. Basically we take the same things into consideration – often on a larger or grander scale. And, just as any other shower, the actual details vary too depending on the expectant couple's preference for games, activities and food.
SML: Do you typically work directly with the celebrity mom-to-be herself or is a professional planner involved?
DN: We usually work with celebrity planners who communicate with the celebrity parent in order to determine parameters when it comes to selecting a style, theme, or venue.
About Daddy Nickell:
Robert P. Nickell graduated with a degree in pharmacy from the University
of the Pacific School of Pharmacy (1981). He lives in Hermosa Beach with his wife, Katy, their two sons, Lincoln and Carter, daughter, Tessa, and their dogs, Max and Ruby. Robert also enjoys a wonderful relationship with his four older children Austin, Paige, Hayden and Kennady.
"Daddy Nickell" is the founder of DaddyScrubs.com, delivery room duds, along with gifts and apparel for dads designed to celebrate dad-to-be. He also writes the Daddyscrubs Blog where he covers topics about parenting and the latest baby and kids gear, all from a Dad's perspective. He writes from a father's perspective and keeps dad engaged throughout his children's lives. He also contributes to national talk shows and daytime television shows including "Good Morning L.A.," "Good Morning Texas," "Daytime TV," ABC15 Phoenix, MSNBC, WZZM 13, San Antonio Living, Fox Las Vegas, and KSBI TV, and as a syndicated columnist for national newspapers, parenting magazines and websites including Baby Couture Magazine, Oh Baby! Magazine, City Parent Magazine, Parenthood, The Bump, ModernDayMom, AKAMomMagazine, and Homeschooling Parent.