Baby Shower Ideas from Cathy Riva Events
Author: Shannon Miller Lifestyle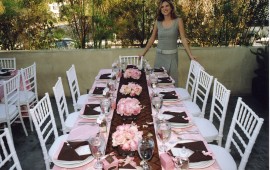 Planning a Baby Shower?
If you are looking for a one of a kind soiree, here are some tips from Cathy Riva, at Cathy Riva Events. As an Event Planner and Mompreneur, Cathy takes joy in making every day occasions fun! She believes that "life can be a party and baby showers are one of the best reasons to celebrate!"
Shannon Miller Lifestyle: What are the first things to consider when planning a baby shower?
Cathy Riva Events: The most important thing to consider when planning a baby shower is the objective of the host. Does the family want a co-ed party? Do they want a traditional baby shower? Do they know the sex of the child? How will the mom-to-be feel most honored by this showering of love?
Then once that is clear. The next most important thing is your guests. What will they enjoy? Are they all still single? Do they have kids? Do you think your friends are the type to enjoy the baby food game ? Is there a more modern tradition you'd like to share with them?
Finally, the big question… to open or not to open? This is a personal decision. I find that the older generation really LOVES to see the reaction of the parents-to-be when they open their gifts and I think that is something to honor. My personal tip is to open gifts at the very end of the shower and those who want to stay for the viewing are welcome to. Just make sure you have someone taking good notes and for those who depart, snap a photo of the mom-to-be opening the gift and include it into the thank you card!
SML: What are some different kinds of parties to throw for the expecting parents? Are there ways to combine different types parties? Is having multiple parties excessive?
CRE: The tradition of showers used to be considered the "rite of passage" into motherhood. I see that evolving into a rite of passage into parenthood as more women share the care giving responsibilities with their amazing partners. Less is usually more unless it comes to LOVE. One shower is an honor, but if you have others in your life that want to honor the new baby then it is ok. If one is concerned about too many gifts or the commercial aspect set up a college fund or a donation to children's charity.
I personally had three baby showers. One was co-ed with my husband in NYC where we live; then next was thrown by my co-workers as a surprise and the third was a small shower for my Alabama family. I think as more people live far away from home, multiple showers are more common. Keeping them intimate and meaningful is key.
SML: Who should be the host of the baby shower?
CRE: The host of the shower traditionally helps pay for the celebration. These days it is common to have more than one host to share the costs. I recently threw a shower for my sister-in-law who is from Spain. They don't commonly have baby showers so her folks didn't fly in. Our mother-in-law is Jewish and it considered bad luck to host a baby shower before the birth of the child, so my sister-in-law's best friend and I hosted a fun co-ed international bash!
SML: What are the best types of venues for a baby shower?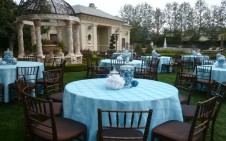 CRE: If you are like me and live in a big city where space is at a premium then outsourcing shower spots has become an art form. Finding a private room in off –the –beaten path restaurants is common, as are tea salons, and even pubs. The most cost effective way to choose a spot outside of your home is to pick a time when the restaurant/bar has very little business. Sometimes this is a Saturday morning or Sunday evening.
SML: When is the typical time in the pregnancy to throw a baby shower?
CRE: These days close friends and family do not always live nearby, so plan a date that works best for all. As long as the shower happens before the eighth month then I think you are considered in the safety zone.
SML: How should a theme be chosen?
CRE: Choosing a theme isn't always necessary, but to make a splash and keep costs down create one special table that has your chosen themed décor –like a cake, vases of colorful candy, favors, prizes, instant camera and baby book…etc…
SML: What are some classic themes that you just can't go wrong with?
CRE: Ducks, Monkeys, Vivid Colors. I like to tailor our themes to each individual client.
SML: What are some of the most creative/innovative themes you have done that have just been amazing?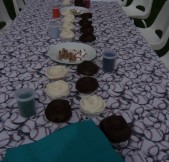 CRE: My partner Sisi Soestrisno and I created a "sporting those baby blues" themed shower for a celebrity couple having a boy. The dad was a baseball fan, but the mom-to-be wanted something feminine and fun. Kids were allowed, so we set up a sports section for them where they were able to decorate their own cupcakes with fun sports accessories and for the grown ups we created a candy wonderland with spheres made from shades of blue jelly beans.
SML: What are the top 5 things to avoid when hosting a baby shower?
CRE:
Stress.
Family drama (see number 1).
If there is a by speech by the parents-to-be remember thank the hosts and YOUR parents and In-laws.
Clear up the budget and who's paying for what before the party.
Remember this is a shower of LOVE keep the focus on the happiness.
SML: What are some favorite favors to give away to guests?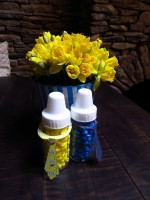 CRE: Favors are not necessary according to edict books, but some cute ones are baby bottles filled with candy(left) or choc chip cookie dry ingredients, or candy bags with a crafty bow tie for a boy or princess crown for a girl. I always try to give away flowers from the décor to guests also.
SML: What are some ways to include dad?
CRE: Make sure you have some "dad" type of presents he can open. One funny gift is the Dad Emergency Travel Kit. Include fun things like food for dad, baby items and a can of beer. The dad and mom-to-be can be included a photo montage too. Play a "guess the baby game" and make sure the baby daddy has a funny photo from infant-hood!
SML: What are some great money saving tips for the host?
CRE:
Split the cost between several hosts.
Use one central table for your décor theme.
Make a costco or wholesale store run for the pre-prepped tiny bites to serve at the party, such as mini quiches, bbq meatballs, pigs in a blanket and fun dipping sauces.
SML: What are some food ideas for the party that you can't go wrong with?
CRE: I like small bites so you can save money and use cute cocktail napkins instead of  plates and utensils.
SML: What are some great games to include, if any?
CRE: I personally love games, but it is important to consider the audience. Riva Events hosted one baby shower, all women, with a chocolate theme. We played a theme appropriate game "Guess the chocolate bar". It was a huge hit and everyone loved it. Games vary per region too. The baby food game is popular down south as is making hats from the ribbons of presents. Some families have a wishing well. I think these are all special traditions that deserve respect.
SML:Anything else you would like to add?
CRE: Baby showers are one of the best celebrations. The goal is to remember it is FUN and have FUN!
About Cathy Riva:
With more than 10 years of experience in event planning and having been featured on talk shows such as NBC's Today Show, The Tyra Banks Show and Discovery Channel's "Party Girl", Emmy nominated, Cathy Riva, founder of Riva Events, is an expert at creating celebrity events.
Now as a working mom, she has aimed her party skills at something that can help us all… turning everyday tasks into fun, cost effective, crafty celebrations that you can share with your family. Laundry, Dusting, Cleaning, Cooking… come along as she vlogs at www.celebrateeveryday.tv about how she makes these daily activities, well, fun. Cathy includes her two-year old in the process. See if any of her tips inspire ideas to ease your workload, shift your focus and help you enjoy your loved ones in new ways.
Ask Cathy 'why events?' and she'll tell you "life should be a celebration and for me, creating something that helps bring people happiness is such a reward".
Cathy's offers party planning features and tips for print and broadcast, and has recently been a guest speaker for UCLA's Marketing Class. She is also a regular speaker at the Learning Annex's "How To Get Into Event Planning" seminar and a spokesperson for Splenda.
Cathy lives in Manhattan with her husband Marc who is a film director and two year old daughter Riley.