Check the Label – Get Your Fill!
Author: Shannon Miller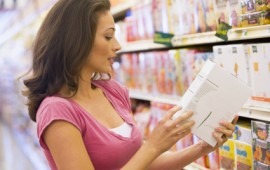 It's always important to make sure you are getting the right nutrients into your body.
When you are pregnant, though, you are taking care of 2 (at least) so it's extra important! One essential vitamin for pregnant women is folic acid because it can help to prevent birth defects.  In fact, women of childbearing age (i.e. 11 – 49) should consume 400 mcg of folic acid daily.  One way to get your daily fill of folic acid is to eat cereals that are rich in it.  There are numerous (tasty!) cereals that contain 100% of the daily value of folic acid, which can easily be discerned just by checking the nutrition label on the side of the box!
Check out some of these cereals below:
Multi-Grain Cheerios
Wheat Chex
Cinnamon Crunch
Kashi Heart to Heart
Raisin Bran
Muselix
Special K
Quaker Oats
Cap'n Crunch Original
Cinnamon Life
TIP:  The next time you are at the grocery store, check the labels, so you can be sure to get your fill of the nutrients you need!
Source: http://www.healthfinder.gov/prevention – folic acid cereals
Disclaimer: Shannon Miller Lifestyle does not endorse the consumption of any particular cereal or cereal brand.