Physical Therapy During Pregnancy
Author: Shannon Miller Lifestyle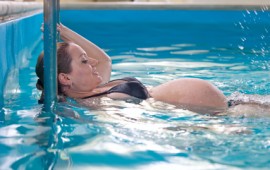 During pregnancy, your body goes through a number of physical and hormonal changes.
Chances are, at some point you will experience at least some discomfort, aches, or pain, particularly in your back. Physical therapy, with the right precautions, can be beneficial to remedying common discomforts like back pain and helping to prepare your body for an easier pregnancy and delivery.
It is estimated that up to 70% of women experience back pain during pregnancy. The cause of much pregnancy pain and discomfort can be traced to the hormone relaxin, which is released during pregnancy and causes the ligaments to relax. It can pull the pelvis and lower back in different directions and place strain in different areas causing pelvic, hip, or back pain. The additional gaining of weight and change in the center of gravity can add stress to these parts of the body.
The pain women experience has been seemingly increasing in recent years as the average age of women having their first child has gone up significantly. With many women pursuing graduate school and careers, it is not uncommon for a woman to be over 35 before having her first child. The increased age during pregnancy can make carrying a child more strenuous on the body. That and the increase of a more sedentary lifestyle can leave women less prepared for the journey of carrying and delivering a baby.
Pain Relief Options
Women who are experiencing pain may seek out physical therapy to help relieve the pain they are feeling. Physical therapy is a medically based profession that specializes in pain relief options. Physical Therapists work with individuals to create an individualized treatment plan for pain relief.
Since physical therapy is a medically based profession, the services are covered by most medical insurance plans with limited out of pocket cost. Treatment plans take a comprehensive approach by working on pain's typical triggers:
Posture
Joint Alignment
Muscle Strength
Flexibility
Nerve Involvement
The physical therapist will also, most likely, send you home with further exercises that you can do at home to improve the strength, flexibility, and stability in your muscles, that can further increase your results.
Some real women who have participated in physical therapy during pregnancy have these things to say:
"I sought out physical therapy, and my doctor recommended it because of my pain. 1 session and I was basically "cured". I LOVE that I workout in the pool, its fun, and I feel like I'm stronger in my whole core (tummy around to back). Absolutely would recommend it!"
-Laura P., Lansing, MI
"I was on the physical therapy table when I felt my second baby move for the first time! It was recommended by my doctor and I would recommend it to anyone. I wish I could have gone every day. My original issue wasn't pregnancy related directly, but the physical therapy helped keep me comfortable the rest of my pregnancy."
-Elizabeth D., Fort Worth, TX.
Tips For Choosing The Right Treatment Option For You
First, consult your OB/GYN or midwife along with your primary care physician that it is safe for you to participate in physical therapy, because as with any physical activity during pregnancy there are risks. Then as them for a referral or a recommendation to a physical therapist who has experience during pregnancy. The key is to find the proper program for you. Here are a few additional things to look for in a physical therapy program:
Managed by a certified professional
Focused on building strength, increasing flexibility and improving posture
Encompasses home based elements for you to do yourself
Proactively looks for any weakness which may become a problem later
Pregnancy is the ultimate strain on one's body, but with the proper precautionary measures, physical therapy could be a good option for you to build strength, flexibility, and stability, and relieve pain.
If you are local in Jacksonville, FL, Walk-Fit Sponsor, InMotion Physical Therapy is a great resource for physical therapy needs. If not, you can find a list of your local physical therapists here.
Disclaimer: The content of this website is provided for general informational purposes only and is not intended as, nor should it be considered a substitute for, professional medical advice. Do not use the information on this website for diagnosing or treating any medical or health condition. If you have or suspect you have a medical problem, promptly contact your professional healthcare provider.