Sticky Bellies Mompreneur, Carly Dorogi
Author: Shannon Miller Lifestyle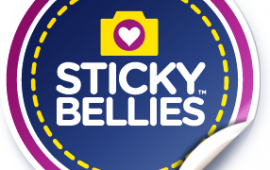 Meet Carly Dorogi: Creator of Sticky Bellies™
Carly is a mom to two girls, 15 months and 4 years old. Although she feels she has always had a sales mentality, all of her formal schooling is in education. She has three degrees, in Early Childhood Education, Curriculum & Instruction and School Administration and had dreams of becoming a school principal when she launched Sticky Bellies™.
Shannon Miller Lifestyle: How and when did you form your company?
Carly Dorogi: I formed my company right after the birth of my older daughter. When I was a child, my mom worked for a small company sewing custom appliqued sweatsuits. The perk of this job was that my sister and I always celebrated our birthdays and other special occasions wearing thematic sweatshirts.  When my own daughter was born, I shared this childhood memory with my husband and said, "I wish I knew how to sew…or someone should make something that looks like its sewn onto the shirt but can easily be removed." Thankfully his response to this was, "Why don't you?"  I grabbed some colored pencils from my school supplies and started drawing pictures of the designs I wanted for my own daughter's monthly pictures. At that moment, Sticky Bellies™ was born!
SML: What's the first thing you did when you realized you were serious about launching your own company?
CD: Research, research, research! I had to begin looking for manufacturers, web designers, shipping software… I spent a lot of time on the internet and talking to people. Looking back, what I SHOULD have done was go on a vacation. I had no idea that owning my own business would consume every minute of my life.  I should have taken advantage of my freedom while I had the chance! ;)
SML: What makes your products different than anyone else's?
CD: Sticky Bellies™ milestone stickers are different from any other sticker on the market because they are designed as a photography prop. Our designers spend an insane amount of time making sure that every color, every every pattern, every word looks just perfect when photographed. From the quality of the sticker paper we use to the colors we choose – it's all about providing the highest quality product to the customer.  I'm also obsessed with fantastic customer service, and I think that's pretty rare these days. I want our customers to feel like they're our friends. As a former elementary teacher, I've tried make the business world a little "softer" and a little friendlier. That's really important to me. At the end of the day, it's all about relationships.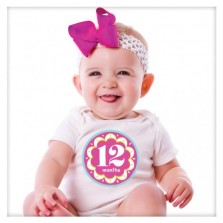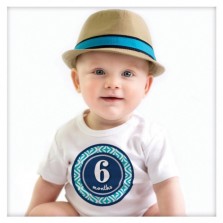 SML: What was the biggest challenge or setback that you had when forming your company(time-wise, financially, emotionally, etc.)?
CD: The biggest challenge was admitting to myself that my life was taking a different path than I had expected.  For the first three years, I was insistent that I could do it all: Be a mom, run a business, AND continue to grow my career as an educator. It soon became very clear that I had bitten off more than I could chew and I was mentally, physically and emotionally exhausted. Choosing to leave the field of public education was one of the hardest decisions I've ever had to make. But, I believe you can't truly grow without taking some risks and I am now confident that I've made the best decision for myself, my family, and my company.
SML: What was one piece of advice you wish you had been given when you got the idea to start your own company?
CD: I've learned so much over the past three years – from mentors, retailers, customers, and other mompreneurs. I think making mistakes is part of the process and each of those lessons came at just the right time. I don't think hearing that same advice before I started would have had the same impact. I guess the only advice I would have wanted in the beginning is, "Don't be afraid to ask for help. But also be confident enough to know what's really helpful TO YOU and what isn't."
SML: What has been your best memory or happiest moment since starting your business venture?
CD: I absolutely love checking our [email protected] e-mail account. We get monthly baby pictures of our adorable customers from all over the world and seeing these pictures is something I really look forward to. I love the enthusiasm and pure joy of new parents, so being able to provide them with an easy way to document their baby's journey is a true honor.  A customer who has been sending me her daughter's Sticky Bellies pictures since month #1 just sent her 24 month picture. I had to stop for a moment and just appreciate the fact that my company was a part of the first two years of this little girl's life and that someday she will look back on these pictures as an adult. Not many baby products provide such a treasured keepsake. That's pretty cool.
SML: Silly question: If you could go back in time to meet any famous mom who would it be and why?
CD: Not famous, but I'd love to meet my fraternal grandmother. My father was adopted and doesn't know his birth parents. Now that I have my own children, having that gap in our family history is sad and frustrating. I'd just love a few minutes to sit down and ask her some questions.
SML: Anything else you'd like to share?
CD: Kiss those babies and take lots of pictures!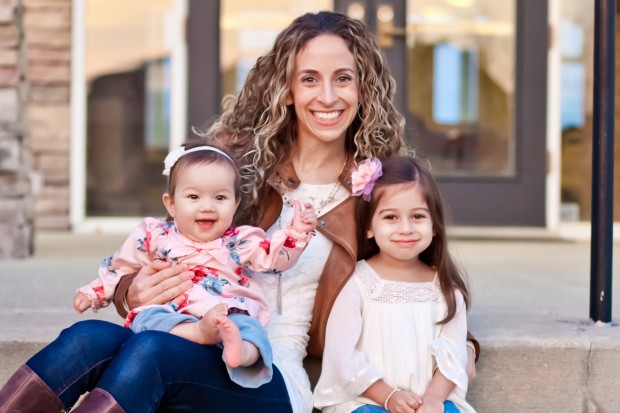 For more of Sticky Bellies, visit them at: