Top Things to Prepare for Baby When You're Pregnant
Author: Shannon Miller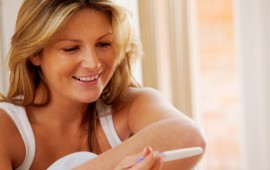 You're pregnant. Congratulations!
Even if you're scared, your new baby will be here before you know it. Here are some tips and answers for your questions from the March of Dimes that you'll need to know before you have Baby Girl or Baby Boy.
1) Decide About Breastfeeding.
Breastmilk is the best food for babies. The March of Dimes urges all new mothers to breastfeed if they are able, but you'll need to talk it over with your partner and healthcare provider to make sure this is possible. Here's why:
Breastmilk protects your baby from infections that formula does not.
Breastmilk is always ready when your baby wants to eat.
Breastmilk is FREE!
Women who breastfeed may receive some protection from breast and ovarian cancer.
2) Get ready for the hospital
Pack a bag with:
warm socks
nightgowns
toiletries
sweaters or sweatshirts
Don't want to pack it yourself? Have a friend you would like to get the perfect hospital kit for? Check out the Push Pack by Small Batch Studio. It has everything to keep the new mother comfortable, including new breastfeeding products and personal pads.