Gymnastics has a New Darling!
Author: Shannon Miller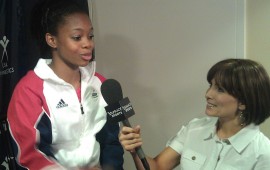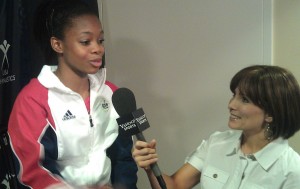 The Olympic Trials have been exciting for some and devastating for others.
However, the goal remains the same for everyone competing in San Jose this weekend….make the Olympic team.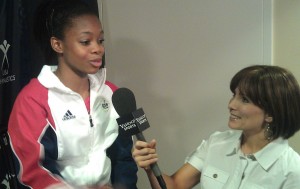 The biggest stand-out of the night was Gabby Douglas, dubbed the "flying squirrel" by Marta Karolyi, the US Women's Program Coordinator and wife of the famous Bela Karolyi. Currently in second place by a mere .3 of a point, Douglas continues to chase the steady World All Around Champion, Jordyn Wieber.
While she may not have won the night with points, Douglas certainly won the hearts of all watching. Her infectious smile and cheery outlook have brought a new vibrancy to the competition floor that will be exciting to watch come London.
She remains in the mix for that top spot, even with some breaks here and there. If Gabby can put together 4 solid routines, she could not only win Olympic Trials, securing her spot on the US Olympic Team but I believe she could win the 2012 Olympic Games!
Gabby Douglas Interview (Yahoo! Sports)
Make sure to check Yahoo! Sports for my take on the men's and women's teams  this weekend, and as they head to London!
Women's Team Preview (Yahoo! Sports)