Dry Skin & Help with Rosacea
Author: Shannon Miller Lifestyle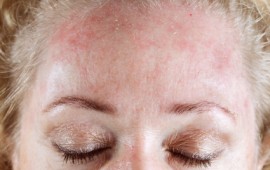 'Tis the season to be jolly…and along with that, to have red, ruddy cheeks and a red nose?
Dry, flaky skin and sallowness start to show as the weather gets chilly. The skin starts to lose its oils from the weather and the excessive use of indoor heat. We also tend to eat sweets and foods of little nutritional value as we enjoy the holidays. These sugars can break down the collagen in our skin, making us look not just dry, but sallow. Many people as, "How can I get rid of my dry, flaky skin problems?"
Here is some help for your skin! Let's start with how to get beautiful from the inside out during the winter.
Include anti-inflammatory foods and drinks. Drinking a green tea per day gives your skin a remarkable boost of anti-inflammatory natural chemicals. Berries also have anti-inflammatory properties.
Vitamin A! Some dermatologists think we should add vitamin A to the drinking water. Now, don't go to that extreme, yet. After all, vitamin A is a fat soluble vitamin. Too much of it is toxic. But eating orange colored vegetables, like carrots, sweet potatoes, and pumpkin make the skin remarkably supple and firm.
Omega-3 foods. Omega-3 fatty acids are good for the heart, brain, digestion, metabolism, hair, and yes, skin. Such super foods would be olive oil (add a little touch of olive oil every day), walnuts, and even pumpkin seeds can give your skin a healthy glow.
Eat organic cucumber with the skin on. You do not want the cucumber with the extra wax over the skin, but the natural skin straight from the farm. Cucumbers have almost no calories, but the skin contains silica, which strengthens the skin.
Vitamin C your way clear. Vitamin C boosts immunity in the body, and also protects the skin from free radicals (like smoke and pollution). Like your own personal defense army, vitamin C can block out those chemicals that can seriously damage the skin, especially when the skin is so vulnerable, like in the cold weather.
Now, let's explore some natural cures for dry skin to apply on the outside.
Dab a little olive or coconut oil. Yes, olive oil can work on the outside, too, to moisturize the skin. Try using a little overnight.
Try a gentle scrub. See a previous SML healthy skin care article on a homemade scrub for smooth skin.
Try an organic cleanser for sensitive skin. This cleaner and moisturizer by Moody Sisters gently removes dirt, but customers claim their skin feels already moisturized. Ingredients include sweet almond oil, witch hazel, and oat seed extract.
Help! What to do when my skin is RED?
If you have red skin that looks like it is excessively damaged or has broken capillaries under the surface, you may have Rosacea. Ask your dermatologist about Rosacea and what she recommends. The cold weather may be an extra trigger.
If you already know you have Rosacea, and it flares up this time of year, try keeping the face clean but not stripped of moisture, and then add natural moisture to the face daily with jojoba oil or shea butter.
To keep your Rosacea in check, try to avoid:
Spicy foods
Alcohol
Smoke
Overheating
 Let us know your favorite skin care products – either Contact Shannon Miller Lifestyle or add your recommendation in a Comment on this article.
Maybe your suggestion will be part of a Shannon Miller Lifestyle Giveaway in the next couple of months!