Get Your Kids Off The Couch And Into The Game…Of Life
Author: Shannon Miller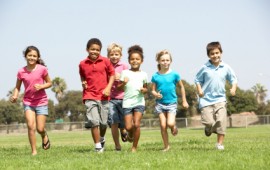 Obesity is a serious health issue for children.
With the fast moving past of our lives today we must make physical activity a priority, not just for ourselves but for our children.
One in three kids are overweight or obese.
Obese children are at risk for health problems like high blood pressure, high cholesterol, hypertension and Type 2 diabetes.
More astounding is that this could be the first generation of children not to outlive their parents. It's important that we find ways to get kids active and keep them healthy.
Here are some tips to make fitness a family affair and help keep your children healthy and fit:
Take a walk. Walk as family before or after dinner each night.
Get active. Find fun activities to do on the weekend that get you out of the house like bike rides, hiking, the neighborhood pool or just playing tag in the front yard.
Hold a dance party. If it's rainy or cold hold dance parties in the living room, crank up the tunes and let loose. You're kids will see a different side of you and learn that physical activity can be fun!
Reduce screen time. Limit the amount of time your child is on the computer, watching television or playing video games. You'll be surprised at your child's increase in energy once they put down the remote and pick up a ball (or a racquet, bat, club…).
By spending time doing physical activities with your child you're showing them that health is a priority.
Children do what they see. So set a good example and make fitness part of your day.
TIP:  If you found this article helpful, you might also want to read some related Shannon Miller Lifestyle articles:
Childhood Obesity -Can You Prevent It Before Your Child Is Even Born?
Boost Your Children's Health With Fruits and Veggies