Top Baby Products for New Moms Returning to Work
Author: Shannon Miller Lifestyle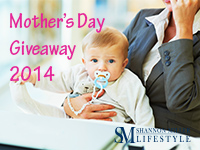 by Liz, Team SML
Going back to work after having a new baby can be a difficult transition.
Whether you took the minimum 6 weeks off or you were able to take a little more time, you are probably feeling a little bittersweet about this transition. We wanted to put together a giveaway this time around that focused on Mom as well as baby and making the transition back to work a little easier. Some of the items help make life a little more comfortable, some make things a little quicker in your daily routine, and some just make life a little less worrisome.
We hope you enjoy! Please remember to enter the rafflecopter giveaway at the bottom of the page and share with your friends on Facebook and Pinterest!
Lifeproof
Lifeproof has made life a little easier with their cases. The Lifeproof fre is light and thin, waterproof, shockproof, snowproof, and dirtproof! Toddler decided to throw your phone in the tub or toilet? No worries here! This case has saved my iPhone 5s a few times from the curiosity that is a young child!
Lifeproof also has a variety of accessories to go along with your Lifeproof case!
The Bike & Bar Mount is fantastic for biking or even mounting on your jogging stroller! It is very easy to install and stays in place over bumps and cracks in the sidewalk!
The Lifeproof Armband is great for jogging with your phone and is quite comfortable while staying in place as well. With other armbands, I have always had issues with excessive sweating and itching in the area where the armband is or it slipping down my arm. The design and execution of the Lifeproof armband is simply fantastic!
The Lifeproof Lifejacket is one of the most interesting accessories I have seen for a phone, but I have to admit it is a genius one if you like to spend time on the water. The lifeproof case itself is waterproof, but it doesn't float, so if you drop it in the lake, you probably aren't going to be finding it. The Lifejacket makes your lifeproof case float as well and adds an extra cushion for impact as well. Taking your phone white water rafting or jet skiing was never a good idea before these products and now you don't have to worry about losing your phone! There is also a lanyard to connect the lifejacket to, so you can have your phone securely attached at all times!
Chicco NaturalFit Feeding System
Chicco produces some of the best baby products on the market today, proving it once again with the introduction of their New NaturalFit Feeding system. While there are many different choices when it comes to choosing bottles for your baby, Chicco's innovative NaturalFit system is a standout choice.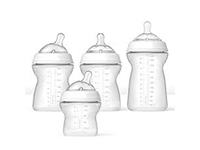 Chicco NaturalFit Bottles– If you are going to be a working mother, bottles are a necessity, whether you will be giving pumped breast milk or formula. The NaturalFit Bottles are a great transition from breast to bottle, particularly in the earlier stages, and helps to avoid nipple confusion for mothers who will only be bottle-feeding while baby is at daycare or with a babysitter. Getting a breastfeeding baby to take a bottle can be quite difficult, and learning how to properly bottle feed breast milk can also be difficult as it requires paced bottle-feeding, which can be difficult to accomplish with a straight nipple like most bottles have. The angled nipple of the stage 1 NaturalFit bottle makes it easy to feed baby in a more upright position without getting too much air in the nipple and still allows the baby to work at sucking, so transitioning back to the breast when you are with the baby is easier as well. The stage 2 and 3 nipples, which are the more traditional straight nipples are also great for older babies who prefer a faster milk flow or for older formula fed babies.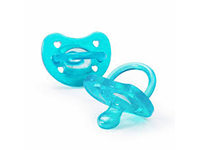 Chicco NaturalFit Pacifiers– Soft Silicone Pacifier is made of soft silicone, which is great as an early pacifier. It also has a smaller nipple so that it is not overwhelmingly large to a newborn. I like that it is ergonomically designed, since other similar soft pacifiers are usually straight and tend to fall out frequently. This pacifier is much more likely to stay in baby's mouth because of the great design.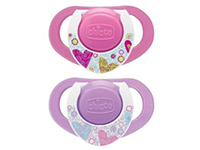 Deco Orthodontic Pacifier– The Deco Orthodontic Pacifier is similar to the Soft Silicone Pacifier, but has a plastic shield instead of being all silicone. They have several adorable shields to choose from and are well designed, helping the pacifier to stay in baby's mouth. I particularly like that the shield sits well below the nose, so baby's breathing isn't affected at all, which can be an issue with larger shields.
Storksak
Diaper Bags: every mom has (at least) one, and part of you secretly has bag envy when you see one that is just fabulous! Well, if you are looking for a fabulous bag, Storksak has an entire line of them! I was so excited to test the Storksak Bobby out. It has the looks of a high-end designer handbag, with all the functionality of the best diaper bags! It has more storage room that you could imagine, and keeps everything in its rightful place with strategically designed pockets. Just a snip into how much it actually holds, one day we were going to be out all day and had several things to do; I was able to pack 5 diapers, a pack of wipes, the included changing pad, my wallet, my laptop and power cord, a change of clothes for baby, a change of clothes for me, 2 sippy cups, and more!
It also includes a FAB 'Food and Bottle' bag, a matching insulated storage bag for bottles, food, wipes, and other wet items. I have used it as a necessities bag with a diaper, wipes, snack, and sippy cup for dropping my litte one in the nursery at church, and during the week, I have used at as much lunch box for work. I also love the little features of the Storksak that other brands just don't think of, particularly the Strollerstraps and the matching pacifier case!
Storksak is now a recommended "must have" diaper bag to my friends, particularly those who are working mothers! Not only is Storksak functionally a great diaper bag, it is also stylish enough to take to the office with you as your purse!
MAM
MAM offers a wide variety of BPA-free baby products, with a mission to combine the best in technological innovation, medically sound function and contemporary design to provide parents with smart and simple solutions and to give babies the best start in life. They are a global leader in the baby care industry, selling over 40 million BPA-free pacifiers, baby bottles, functional teethers, baby oral care and drinking cups for newborns to toddlers sold each year. MAM's entire line of products is focused on proper oral health from very early on, promoting stages of products for the proper tools at the proper stages of baby's development.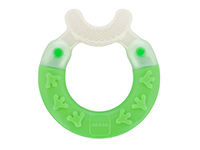 MAM Bite and Brush– The MAM Bite and Brush is a fantastic first step in good oral care for your baby! Recommended for babies age 3+ months, this ring shaped teether is easy for baby to hold, and massages and cleanses gums and babies first teeth, with its unique soft bristles. Teething can be a difficult and painful process for baby, the bite and brush doubles as a teether and toothbrush, making it an enjoyable and useful "toy" for baby.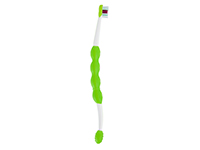 Training Brush– The MAM training brush helps to continue early practice of brushing teeth. Recommended for babies age 6+ months, this training toothbrush has soft bristles to clean babies first teeth and a long handle to allow parent and baby to brush together for guided brushing.
Training Cup– This training cup is a fantastic transition from breast or bottle to sippy cup. It offers handles for easy grip and the option of a bottle like nipple as well as a soft spout top, which is interchangeable as baby is ready to start learning to drink instead of sucking.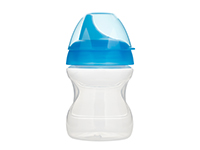 Learn to Drink– To continue the transition from bottle or breast to a training cup, the MAM Learn to Drink cup with soft spout is a 6 oz cup, is a great sippy cup for babies 6+ month. The soft spout and slim design are make it easy to grip and a great next step for baby learning to drink from a cup.
healthy mama®
Finding the proper, safe over-the-counter medications to take while pregnant or nursing can be a daunting task. And while no medication is 100% safe during pregnancy or nursing, healthy mama® brand has done a fantastic job of creating a line of products to help choosing the safest medications possible much, much easier! The Healthy Mama line features: Shake That Ache! to alleviate aches and pains, eaZZZe The Pain! to minimize pains and sleeplessness, Move It Along! to relieve occasional irregularity, and Tame The Flame! to get control of heartburn and indigestion, Be Well Rounded! Prenatal vitamins, and Boost it Up! An all-natural protein energy drink that is caffeine free. Healthy Mama is the perfect line of medications for pregnant or nursing mothers and takes all of the guess-work out of choosing safe medications for yourself!
Diono Warm N Go Bottle Warmer
For warming bottles in the car, the Diono Warm N Go Bottle Warmer is fantastic. It is small and easy to store in a diaper bag or glove box and warms a fridge cold bottle in about 15 minutes to a perfect temperature for baby. It fits in a cup holder and fits a variety of bottles quite well.
Silikids
Silikids began as a labor of love in 2006, from mompreneurs Giuliana Schwab and Stacey Feeley, who were concerned with the growing number of toxins in children's products on the market today. Giuliana and Stacey have committed to producing a line of innovative baby products made completely of silicone (and glass). Silicone is fantastic for children's products because it is non-pourous and doesn't harbor bacteria, it is also quite easy to boil and sterilize due to its high resistance to heat.
Siliskins– The first product created by Silikids was the Siliskin, a silicone sleeve for glass baby bottles. The Siliskin has matured a little bit and now has become a sleeve for drinking glasses (which are included) and they also have a Siliskin Top to make it a sippy cup for toddlers. The siliskin is simply a genius idea with an excellent execution of production. My toddler really enjoys these cups and I love how easy they are to clean and maintain!
Silibib– Children are messy eaters, but the Silibib truly makes cleanup of your child much easier after mealtime. It has a convenient pocket at the bottom to catch any runaway crumbs or dribbles of water and since it is made of silicone, there is no worry of liquid soaking through the bib like with a traditional fabric bib.
Silimap– The Silimap is the perfect placemat for a young child when transitioning to the table from a high chair. The silicone grips the table to prevent sliding and ensures easy cleanup time after time. It is also great to color on and to practice learning the map of the United States at an early age.
pediped
The "next best thing to bare feet", pediped shoes are truly one of the best brands of children's shoes on the market today. Created by mompreneur, Angela Edgeworth, pediped shoes are comfortable, stylish, and made of high quality materials. pediped was one of the first children's shoe companies to be awarded the Seal of Acceptance by the American Podiatric Medical Association. The Originals are not restrictive to babies while they are learning to walk, the Grip N Go are perfect for toddlers who are gaining confidence in their walking (and running), and Flex are great for the older child who is looking for comfortable and stylish shoes.
Brian James Footwear
For stylish and comfortable shoes for mom, look no further than Brian James Footwear. From Angela Edgeworth, creator of pediped, Brian James has a fabulous line of shoes ranging from flats and sandals to wedges and boots. They are truly comfortable and well made shoes that are sure to get you complimented throughout your day!
Green Rainbow Revolution
Green Rainbow Revolution was founded by Leila Goldmark, who was an environmental advocacy attorney, before having her first child. After becoming a mom, she found it hard to find ethical, healthy, and sustainable products for her child, so Green Rainbow Revolution was born. They carry a wide array of colorful, fun, educational, reasonably priced, and ethically produced products for children. If you are looking for toys for your child, you can breathe a little easier knowing they came from Green Rainbow Revolution, particularly because all of the supplier specifications are clearly stated on the website with every toy.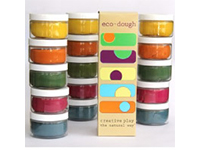 Eco-Dough by Eco-Kids– An Eco-Friendly version of the childhood favorite, modeling dough, Eco-Dough is vegan, all-natural, non-toxic, and biodegradable. Although it is never a good idea to eat modeling dough, you don't have to freak if your child decided to take a bite of Eco-Dough. Made primarily of fruit and vegetable extracts, flour, and oils, all of the ingredients are safe so you can breathe easy as your child gets creative!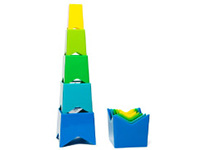 Stack and Nest Cups by KidO Productions– A modern update on the classic stacking cups, KidO's Stack and Nest Cups are a great toy for young children, learning to stack in a tower or great for water play. They are made of recycled materials and are BPA, phthalate, lead and PVC-free. They are also completely recyclable in normal household recycling.
Thirty One Gifts
Thirty-One Gifts has one of the most versatile lines of bags on the market today. Purses, wallets, lunchboxes, totes, and more, the Thirty-One line can be personalized and you are sure to find something perfect for you. I particularly loved the Zip-Top Organizing Utility Tote, it is the perfect size for a laptop, binders, and even textbooks, with pockets to keep everything organized as well. The Medium Thermal Zipper Pouch was also great for keeping a drink and snacks cool during the workday and fit right into my bag.
Flipple
Flipple is a genius invention that turns any water bottle into a baby bottle or sippy cup on the go. For the toddler who loves to copy mom drinking out of a water bottle, it is the perfect solution. It is also great if you just forget to pack an extra bottle and need a bottle for formula on the go. The base of the flipple is a funnel, great for pouring in formula or Gatorade powder, then flip it over and screw it and the nipple or sippy cup top right on the water bottle. Fantastic for vacation or a busy day, the Flipple is an easy accessory to always keep on hand in case of emergencies.
Prince Lionheart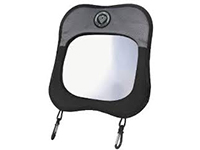 Baby View Mirror– A must have for rear facing babies, the Baby View Mirror by Prince Lionheart provides a clear view of baby at all times. It is easy to install and even features two carabiner clips to attach toys to.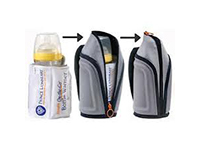 On-The-Go Bottle Warmer– Fantastic for warming bottles or baby food on the go! The Prince Lionheart On-The-Go Bottle Warmer provides heat at the push of a button with no batteries or electrical supply necessary. Simply boil the heat pack in water to reuse. Great for traveling, running errands, or just picking baby up after work!
Cozy Cover On-The-Go Changing Pad
A great companion for parents on-the-go, the Cozy Cover On-The-Go Changing Pad is perfect for a quick change anytime. It is nicely padded for those hard changing surfaces frequently found in public places, and has enough pockets to hold diapers, wipes, creams and more. It is easy to clean and has a Velcro handle to make it easy to attach to a stroller or mom's purse.
Johnson's Baby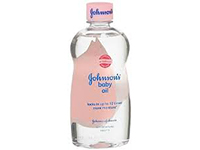 Johnson's Baby Oil– A must have with babies, Johnson's Baby Oil locks in up to ten times more moisture on wet skin than an ordinary lotion can on dry skin, leaving skin soft and smooth. Johnson's Baby Oil is an essential part of bath-time routine for baby. Quick, easy moisturizing for baby's very gentle skin. It keeps moisture in well without having to apply multiple times a day, like other baby lotions. I also love the variety of scents Johnson's is now offering!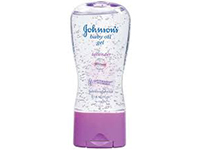 Johnson's Baby Oil Gel– This is a personal favorite of mine. While it is very similar to Johnson's Baby Oil, the gel makes it less messy and easier to control how much you are squeezing out at a time. It is a fantastic moisturizer for legs after shaving and leaves skin feeling smooth all day long!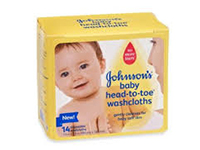 Johnson's Baby Head to Toe Washcloths– Johnson's have taken a brilliant concept and sharply executed it with these washcloths! Dry out of the package, run them under water to release Johnson's Baby Wash, and go! Perfect for a quick bath with your infant or toddler and great for cleaning up every day messes on the go. Even better, for families who travel, these eliminate the need for worrying about what size liquids you can take on an airplane for your little ones!
a Rafflecopter giveaway